Our studio has been in business since January 1998. We opened as part of a franchise company and then in October 2007, we left the franchise and became an independent studio. Hence, The Pottery Place was born. In September 2009, we added Silver Clay Jewelry Making to our product line. This has given our customers the opportunity to create their own pure silver works of art. Additionally, as you'll discover while browsing our website, we offer many different programs, classes and events throughout the year.
We also offer weekly specials that you can take advantage of:
Tuesdays are 2 for 1 Studio Fee Day!  That means 2 people can paint for the price of 1 Studio Fee.
Thursdays we offer our Artrageous Techniques. From 6 pm to 9 pm you can come in and try some cool techniques, such as painting with Bubbles, Alcohol, Yarn, Crumbles or Shaving Cream. There is an additional $5 fee per piece for those techniques. We also have a flat Studio Fee of $10 from 6 pm to 9 pm on Thursday Nights.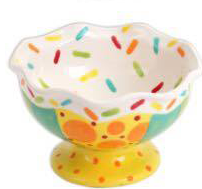 Take part in our Summer special and drawing. All summer long (June 1st-August 31st), paint one of our ruffled ice cream bowls and receive a certificate for ice cream from Cold Stone Creamery! 
Price: $27
Includes: Ruffled Ice Cream Bowl, Unlimited Studio Time for 1 painter, certificate for Ice Cream from Cold Stone Creamery and one entry into our $100 gift Certificate drawing. Drawing will be held on September 1st.
1475 Western Ave
Stuyvesant Plaza
Albany, NY 12203
Or Call Us At:  518-446-0870