Special Moments
Make Your Wedding Uniquely Personal  At The Pottery Place!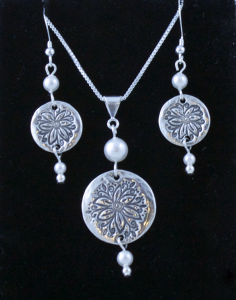 Make special bridal jewelry or even matching sets for your whole bridal party. Stamp these pure silver pendants with your wedding date or attendants initials for a very personal touch.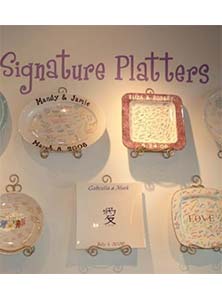 Design and paint a Signature Platter for your wedding shower or reception. It's a great, creative alterative to a guest book. This special platter, with sentiments and signatures of your guests, is a unique way to remember your special day. It can be used or displayed for many years to come.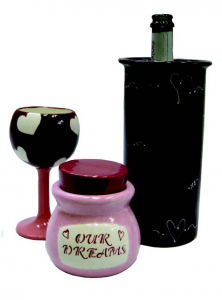 Host a Bridal Shower or Bachelorette Party for a creative bride-to-be! Paint pieces for the bridal couple, or have each guest paint something for themselves to remember your special day.
Handprints, Footprints And Precious Fingerprints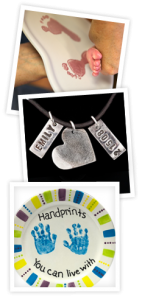 It's easy to capture the memory of your precious little one's hands and feet on pottery or in pure silver. We're always here to help you make wonderful keepsakes or special gifts for your loved ones. Our staff will paint your child's hand or foot with non-toxic paint and press it onto the pottery pieces of your choice. You then have the opportunity to finish decorating the pieces with designs, their name, and the date. Once you're finished, we glaze and fire your pieces, which will make them food safe, and you'll take home a special moment in time. You can also imprint your child's fingerprint into a piece of silver clay that once fired will turn into a piece of 99.9% pure silver. These pieces of silver can be added to necklaces, bracelets, keychains, rings, or bookmarks. Imagine what a unique and special gift this will make for yourself and family members.